Are you ready for some spring cleaning? Spring cleaning is not only about deep cleaning the bathrooms or vacuuming those hidden areas. Decluttering and organizing is another important thing to do once in awhile. If you can start on getting a system together, we promise it would help a lot. We know it's a lot of work, not a fun activity (for some), and can be hard to maintain. However, we are here to give you some tips and ideas on organizing your home.
HOW TO BEGIN.
PLAN IT OUT — Take out your calendar or your planner and dedicate a day or weekend to work on a specific organizing project. You don't have to do it all at once. Work on each space little by little, so that you're not too overwhelmed. If you can knock it out in one weekend, AWESOME! If not, YOU'RE OKAY!!! Write down the room or space you plan on organizing and any notes you may need for yourself.
Below is a free calendar printable if you need one.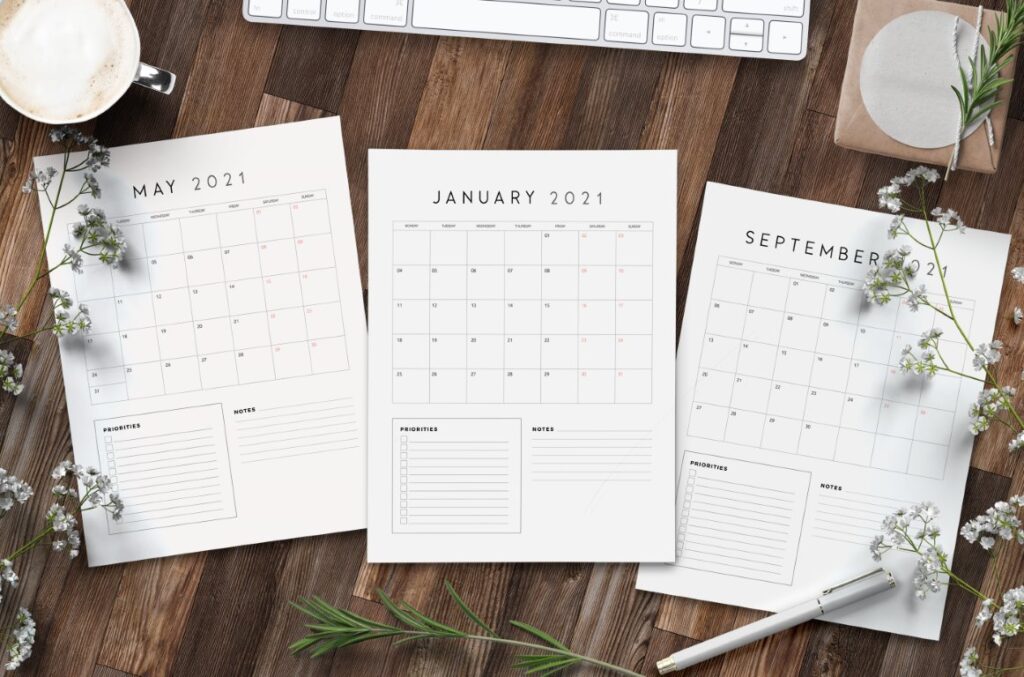 PLANNING + RESEARCH — Okay, you're probably wondering … research? Research what? We know you've gone on Pinterest and pinned all your pantry goals, office goals, closet goals, and so on. This is a great start to know exactly how you want your space to look and what products you would like to organize your space. Now that you have scheduled your "organizing day," plan and research a couple of things ahead of time.
Plan out what you already know. Here are some examples.
The Kitchen — You know you want organize your pantry, or under your kitchen sink, and maybe even that "junk drawer" full of random items like birthday candles, chopsticks/plastic utensils from restaurants, pens, coins, etc.
The Office — You know you need a filing system or a dedicated space for all your office supplies.
The Closet — You're wondering how you can organize your clothes, shoes, accessories, etc.
The Garage — You're probably wondering when you can use this space to park your car, use as a home gym, or make it into an area to work with tools. However, this is one area we all (or most of us) use for some kind of storage. That's okay, but your goal is to organize and maximize the space.
Research a couple of organizing products you may want to purchase. You're looking for the style and design. Gather some options and save them to your wishlist or favorites. Compare prices, reviews, etc. Take any measurements if needed. Keep in mind things may change after you are done decluttering and sorting out, but at least you have a couple of options saved ahead of time. You'll come back to your list and see what products will work and/or not work.
If you are ready to purchase your organizing bins/storage/etc. … Feel free to do so. It would be nice start putting things where they belong on organizing day. Just make sure to take proper measurements.
ORGANIZING DAY — Whether you're organizing the kitchen or office, start in one area and move your way around. Do not jump from one room/side to the other. Stick to that area until you're done. Make sure to have trash bags or empty boxes available. You will use to sort out things you want to throw away, recycle or keep.
While going through each space, create piles to categorize. For example:
These are some examples to help you get started. All our homes are different, so whatever you feel you need to create a category for … go for it. Once you are done throwing things away and sorting everything out, look at each pile and categorize with a post-it. If you already have all your organizing supplies, start placing these items where they belong and organize in an area thats convenient for you.
If you do not have any of your organizing products yet, go back to your wishlist and see what organizing system you need. You now have a better idea on what size and quantity you need. Once you have everything, start placing and organizing items where they belong.
HOME ORGANIZING PRODUCTS + IDEAS.
Below we are sharing some of our favorite products and inspo to help keep your space organized. Whether it's a big project or just a simple space improvement, we hope these ideas will help achieve your organization goals.
OFFICE
---
CLOSET
---
KITCHEN
---
GARAGE
---
OTHER ORGANIZING STORAGE PRODUCTS/IDEAS
---
THE UPKEEP.
Keeping your newly organized spaced looking beautiful will take effort. It won't be perfect the first or second time, but it will definitely be a solid start. You've gone through all the hard work of purging and modifying your space. The most important thing here is to stay committed in maintaining your space. Create a daily or weekly system to help keep things in good working order.
If you feel like you need more tips and inspiration, we are sharing some of our favorite links and accounts to help you on your organizing journey!
---