It's almost Spring and this is the time we usually start thinking about our backyard. What are we going to do next? Should we get new furniture? There are so many options out there and we have a few on our wishlist. If you are planning to give your backyard a new look for this Spring/Summer and are not sure which direction to go, we have put together an outdoor furniture guide to help you choose the best style and the right material for you.
When shopping for outdoor furniture, you're probably going to look for similar characteristics as you would when looking for indoor furniture — durability, style and comfort. You should also set a budget for yourself. One thing about outdoor furniture is that it needs to tolerate exposure to the weather outside. Although there isn't 100% weatherproof outdoor furniture, there are differences based on the materials used.
There are some factors to consider when choosing the right material for your outdoor furniture. We are here to help you understand the strengths and weaknesses of different material options.
OUTDOOR MATERIALS | FACTORS TO CONSIDER
Outdoor furniture needs to maintain its structural design and appearance throughout the different seasons and weather conditions.
RAIN + MOISTURE
---
If you live in an area with high humidity or frequent rain, you should keep in mind that mold/mildew, corrosion, and warping may occur. You would want to make sure your furniture is resistant to damage from different water-based issues. Mold and mildew may not damage material, but can cause respiratory problems and other health issues. However, rot can lead to decomposition of the material.
Rust and corrosion may occur to outdoor furniture made out of metal. Rusting is common in coastal areas due to salt in the air and water. Metals that contain iron or steel are vulnerable to corrosion, which causes metals to weaken and rust. Materials that allow water penetration can dry unevenly and result in warping. This causes distortion, misalignment, etc.
SUN + TEMPERATURE
---
Fading, cracking and heat retention may occur in areas that are constantly sunny or where there are dramatic climate shifts. You should look for material that can tolerate harsh UV rays and extreme weather changes.
Constant exposure to the sun can cause material to fade, uneven spotting, color change, etc. Outdoor furniture in the sun can also heat up, making it uncomfortable/unsafe to touch. Drastic temperature changes can cause cracking, and dry air can also cause furniture to bend and crack.
WIND
---
In extreme windy areas, you want to make sure your outdoor furniture is heavy enough. The last thing you want is your furniture to tip over or blow away 🙂
COST + DURABILITY + CARE
---
It's important to stay within your budget and know your priorities. It's also important to understand how expensive materials are in the long run. You may want to ask yourself the following questions — How often will I be using? Would I need to replace frequently? Does it take a lot of time and effort to maintain?
Some outdoor furniture may last for years and some may need to be replaced more often due to weather conditions. Another thing to think about is how often you will be using your outdoor furniture. The more frequent the use, the more durable the materials should be.
Caring for your outdoor furniture … Aesthetic and functional durability is also affected by how well you take care of your outdoor furniture. Some may require more attention than others. If your time is at a premium, you may want to opt for lower maintenance materials.
In the end, choose the right material that fits your lifestyle. These are some key factors to consider when evaluating your material options for outdoor furniture.
MATERIALS FOR OUTDOOR FURNITURE
We are giving you the pros and cons of different materials such as wood, metal, resin, plastic, concrete, etc.
WOOD
---
TEAK
Teak (Tectona Grandis) is a tropical hardwood tree, from the plant family Lamiaceae. Teak is the most popular wood choice for outdoor furniture. It is incredibly strong, repels most water, and has high natural oil content, which makes it resistant to damage from rot and decay. It is said that teak could last up to 75 years.
THE PROS – Durable, strong, resistant to weather, insect resistant, no cracking, no warping, and easy to care for.
THE CONS – High-Priced
ACACIA
Acacia wood is native to tropical and subtropical regions, particularly Australia and Africa. It is durable with proper care and an affordable alternative to teak.
THE PROS – Affordable, durable, and sustainable.
THE CONS – Sensitive to heat and requires more maintenance.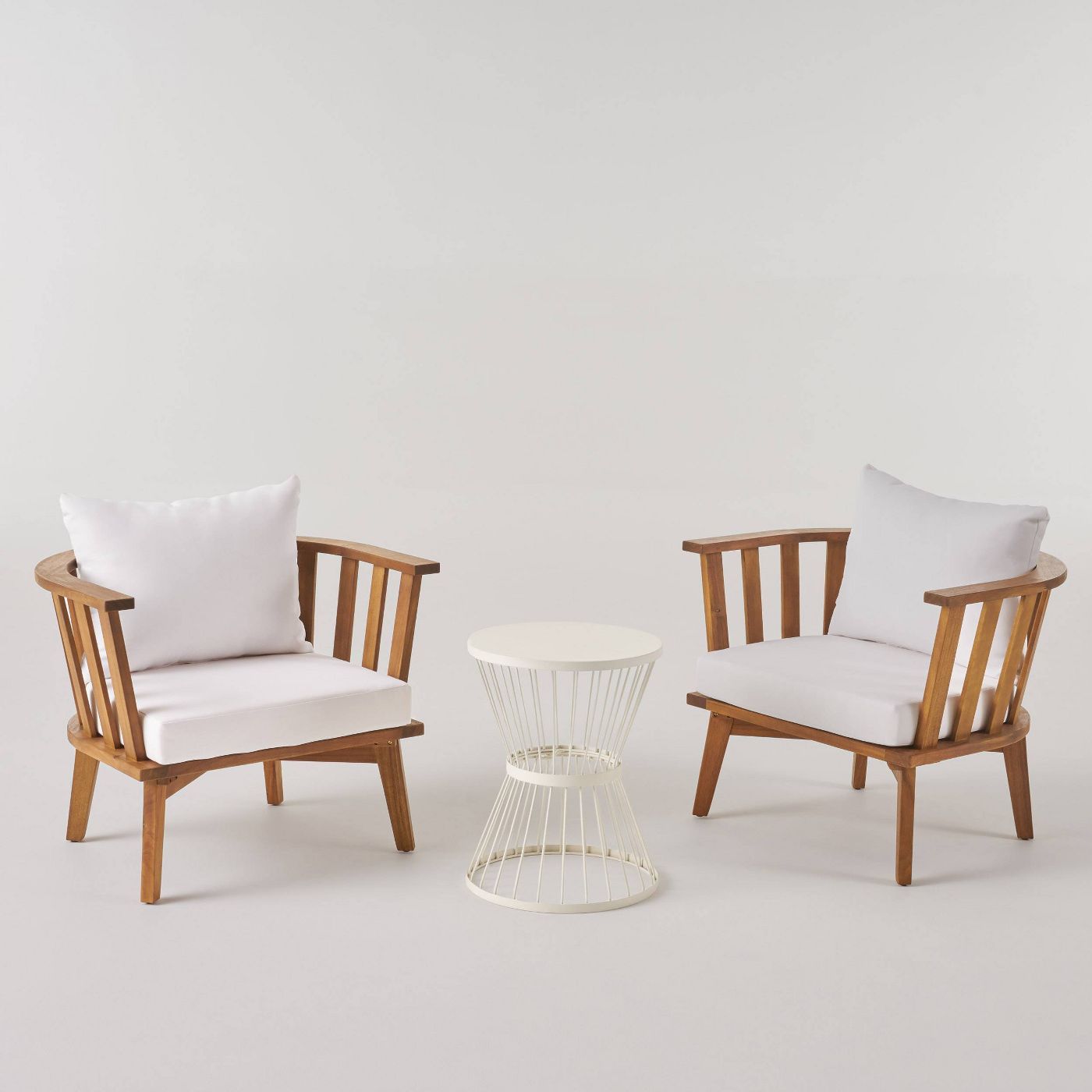 EUCALYPTUS
Eucalyptus wood shares similar characteristics as teak and at a much lower cost. It is less durable than teak, but its oil acts as a natural insecticide and contain water repelling properties. It is recommended to lightly sand once a year to smooth out the surface, and to apply a sealant to maintain the wood's health for a longer life span. Eucalyptus wood could last up to 25 years.
THE PROS – Durable, cost effective, insect/rot resistant, and eco-friendly.
THE CONS – Cracking may occur if untreated with sealant.
METAL
---
ALUMINUM
Aluminum is the most popular metal for outdoor furniture and is relatively inexpensive. It is lightweight, strong, and requires low maintenance. Even though it is highly weather resistant, a polyester powder coating is recommended to help maintain its color. Aluminum also heats up like most metals, so it is best to have seat cushions.
PROS – Strong, durable, lightweight, weather resistant, inexpensive and low maintenance.
CONS – Retains heat and lightweight for very windy conditions.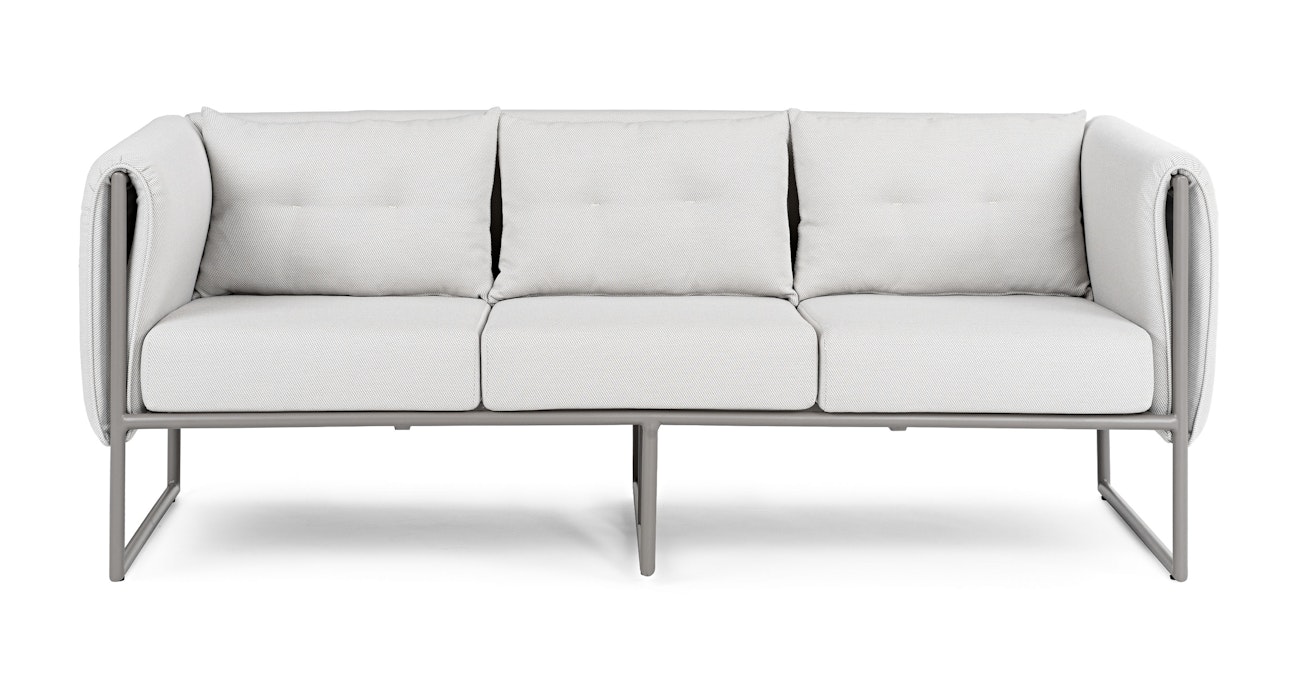 STAINLESS STEEL
Stainless steel is the most expensive choice for metal outdoor furniture. It is extremely strong and endures extreme temperatures better than most metals, so they are less likely to rust and experience corrosion. If you are living in an area with salt air and water, it is recommended to powder coat for extra care.
PROS – Strong, durable, easy to clean, and resists rust.
CONS – Expensive and retains heat.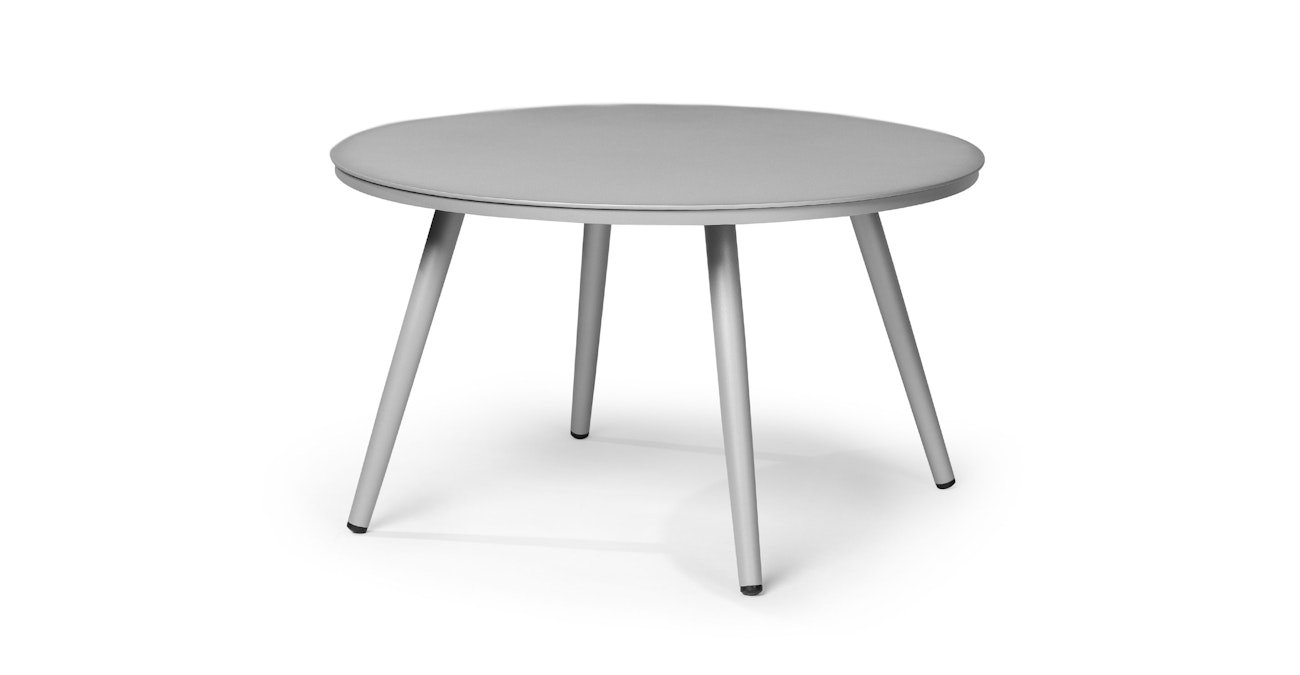 WROUGHT IRON
Wrought iron is the heaviest metal, and it has been used for many things throughout history. Wrought iron outdoor furniture can be difficult to move because of its weight, but a great option for those living in windy areas. Wrought iron requires more maintenance and can be an uncomfortably piece of furniture without seat cushions.
PROS – Solid, durable and a great option for windy environments.
CONS – Rusts easily, requires more maintenance, retains heat and cold, and difficult to move.
RESIN + PLASTIC
---
ALL WEATHER WICKER
Most outdoor wicker furniture is made from synthetic polyethylene resin. Natural wicker is made from a variety of organic sources such as rattan, seagrass, and bamboo. These plant-based wicker is sensitive to rainy weather, moisture and humidity, so it may not be the best option for outdoor furniture.
There are high-quality resin that are resistant to weather damage and are eco-friendly. High-quality resin is also very dense. High-density polyethylene does not release any chemicals, is very strong, and can be exposed to UV rays for decades. Lower quality synthetic wickers are made from polyvinyl chloride, which makes the material brittle and will crack over time. A lot of outdoor wicker furniture is constructed of an aluminum frame, which helps with the weight.
When you are purchasing wicker furniture, make sure they are well crafted. You don't want any loose areas where it can eventually damage the furniture.
PROS – Weather resistant, durable, and easy to clean.
CONS – Can be uncomfortable and may run into issues if wicker is not crafted well.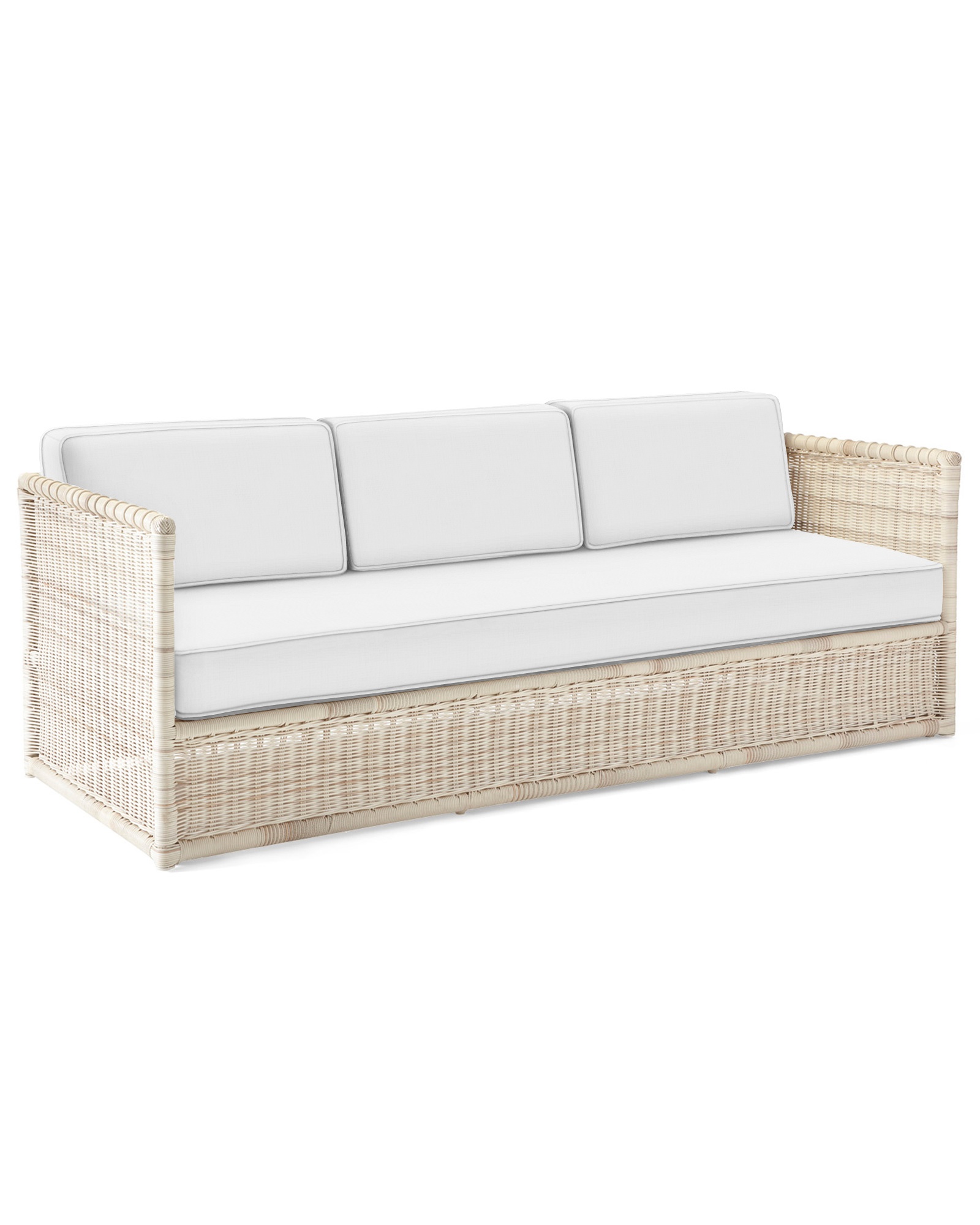 PLASTIC
Outdoor furniture made out of recycled plastic are eco-friendly and is a great option for stylish outdoor furniture. They are extremely strong, durable, and moisture/mildew/insect resistant. It is very easy to clean and doesn't require much maintenance.
There are other types of plastics such as, Polyethylene and Polypropylene.
Polyethylene – is the most common form of plastic used and is cost-effective. It is durable and weather resistant.
Polypropylene – is lighter weight and resistant to heat.
PROS – Strong, low maintenance, does not crack or peel, and is weather and fade resistant.
CONS – May be light for windy environments.
CONCRETE
---
Concrete furniture is very popular in minimalist modern environments. It is sturdy, strong, can resist harsh weather for years, and can be formed in many shapes.
PROS – Long-lasting
CONS – Too Heavy
FABRICS
---
ACRYLIC FABRIC
Acrylic fabric is the most popular fabric used for outdoor furniture. They are strong, weather resistant, and mold/mildew resistant. Acrylic fiber is more breathable, which allows it to stay cooler in hot weather. It is very easy to clean with just mold soap and water. It is the best all-purpose textile.
PROS – Strong, durable, easy to clean, doesn't fade, weather and moisture resistant.
CONS – High-Priced
Sunbrella is the most popular choice for outdoor fabric. Their fabrics are durable and easy to clean. They have been around since the 1960s and have only improved their fabrics for a longer lifespan.
POLYESTER FABRIC
Polyester fabric is synthetic and is usually coated with acrylic or vinyl to protect it from weather conditions. Polyester fabric is strong, resists water damage and staining. Non treated polyester fabric fade faster than other synthetic textiles.
Acrylic coated polyester works well for accents and pillows. Vinyl coated polyester is best for self-supporting sling seating like poolside loungers, paring dining chairs and bar stools.
PROS – Strong, dries fast, comes in bold colors and patterns, resists tearing and water damage.
CONS – Fades faster than other fabrics.
Textilene mesh is made of tightly woven polyester. Each strand of polyester is coated with poly-vinyl chloride and heat set. It is extremely durable.
Batyline mesh is an extremely durable and high quality material. It consists of polyester fiber covered by a coating of PVC.
OLEFIN FABRIC
Olefin is another solution-dyed synthetic fabric. It is durable, fade resistant and quick drying. It is mold and moisture resistant. It is less expensive than acrylic fabric. Olefin is not as soft as other textiles, but is lightweight and easy to clean.
We hope this post helped you understand the different types of material and fabric there are for outdoor furniture, and will guide you to purchase the right outdoor furniture for your home.